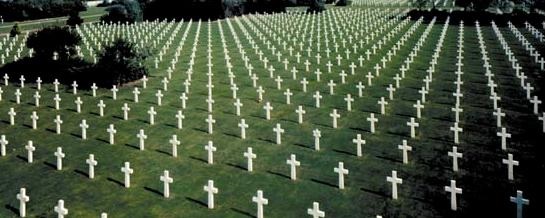 The U.S. Memorial Day commemorates Americans, who have died in military service for the United States. It originally was known as Decoration Day, and commemorated the Union and the Confederate soldiers who died in the Civil War. Eventually, Memorial Day was extended to honor all Americans who had died while in the military service.
People visit national cemeteries and memorials to honor those who have died. Many decorate the gravesites of their loved ones with American flags and flowers. In the South, where generation upon generation are buried in the same cemetery or family graveyard, this remembrance is like a family reunion with kinfolk coming in from hundreds of miles. They usually gather together for a brief religious service, decorate the graves, and then visit while sharing a meal spread out on tablecloths on the lawn. This practice is thought to have begun before the American Civil War and thus may reflect the real origin of the "memorial day" idea.
There are no national cemeteries for the other Americans who have given their lives for freedom's sake - the millions upon millions of babies that were sacrificed so that their mothers could be "free" to live the life of their "choice."
.........................................................................